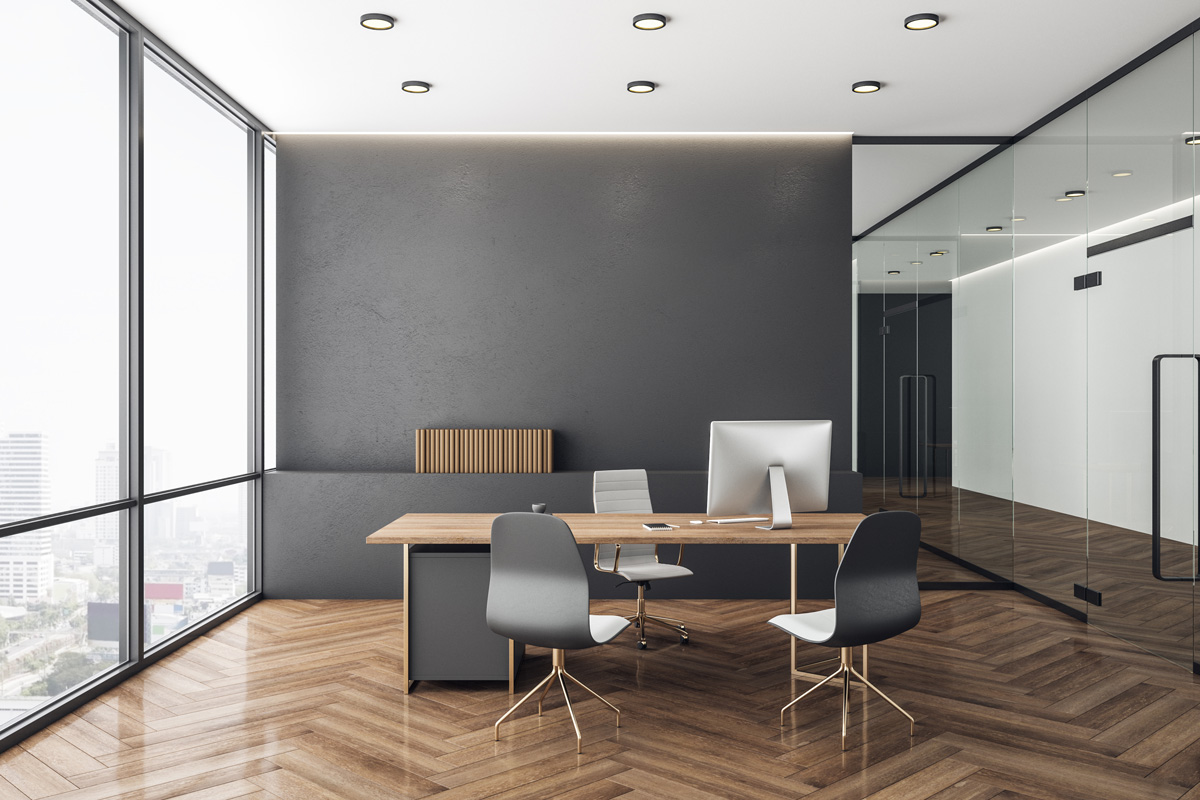 As workers, we spend the majority of our days behind a desk. After a while, staring off at the same bookcase or desk can make your creativity feel stifled, lessening your ability to produce quality work. While you may not have the abilities or resources for a renovation, there are simple ways to elevate your office into a space you enjoy. 
At Indoff Commercial Interiors, we strive to provide affordable office supplies and furniture to El Paso businesses that improve comfort, morale, and productivity. Contact us online or call (915) 355-0120 to learn more today!
A Functional, Sleek Desk
Having an office desk should be more than a flat, clean surface with a couple of drawers on the side. As the main focal point of an office, when selecting a new office desk, pick ones that add a bit of style and functionality to your space. This can include options like desks with a half-wall to provide privacy and limit distractions or ergonomic desks that allow you to adjust the height, so you have the option to stand instead of sitting down all day. The right office desk will let your employees and clients know who they're working with. If it lacks organization, you may be sending off the wrong impression. 
Comfortable Chairs
When you're sitting behind your desk all day, it's important to have a chair that offers you support. It can be really easy to fall for cute, trendy chairs with blush pink velvet upholstery or clear acrylic seats, but don't let trends fool you. The wrong chair can hinder your productivity, making you squirm in your seat all day until you find the right position. Like office desks, your chair sends a message. Ask yourself, what do you want your office chair to say about you? Opt for sleek and professional chairs while still providing the padded or memory foam comfort you need to get the job done.
Versatile Bookshelves
Bookshelves are a great option for adding functionality and a design element to your space. Whether arranging your collection of books by color, getting stylish bins to store loose paperwork, or adding decorative elements like bookends, paper-weights, or photographs. They also are available in numerous styles, colors, and materials. Maybe you're looking to go for natural tones with a mahogany bookcase or a vintage-industrial look with a metal bookcase. Bookshelves provide a wide range of elevations to express your individuality.
Recycled or Pre-Loved Pieces
In a day and age where people are more environmentally conscious, opting for recycled or pre-loved furniture is a great way to elevate your space without breaking the bank. Oftentimes, items are returned or donated because they don't fit a style or it wasn't exactly what the previous owner expected. This is a score for you because you get the practically new item for less! But even with pieces that have been shown a bit of love, a little sign of age or fading can add a bit of character. 
Elevate Your El Paso Office with Quality Office Materials
Creating a space you enjoy shouldn't cost you thousands of dollars. At Indoff Commercial Interiors, we specialize in providing El Paso businesses with affordable solutions for furniture, supplies, and office space planning. Contact us online or call (915) 355-0120 to upgrade your office today!