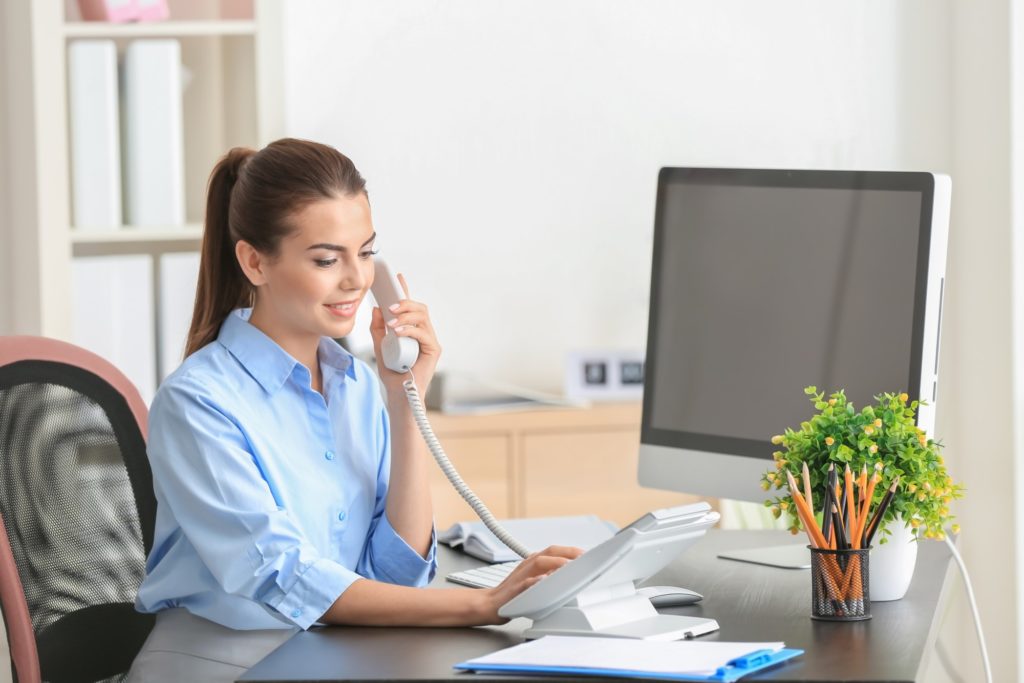 The receptionist area of an office plays a rather important part to the entire space. This is where business partners and clients get their first impression of an office and how the company works. With that being said, you want to furnish your office in a way that will help set the tone and speak about who you are as a company. Too often, the reception area doesn't receive the same amount of thought that goes into the main workspace. Because of that, it can be hard to know what exactly your reception area needs. Lucky for you, we discuss the most important pieces of office furniture needed for this area of your office! 
The Perfect Desk for the Receptionist 
First off, you need to look into a receptionist desk that speaks professionalism, and that is comfortable for your employee. A rising trend in receptionists areas we have seen in the past couple of years are curved or rounded desks. These are great for aesthetic, modern appeal. If you want to achieve a unique look, these are great options to choose from. If you are looking for something more simple and traditional, rectangular, smaller desks may be a better choice. 
Multi-Line Phone 
All office reception rooms should have at least one multi-line phone. This is an absolute necessity for your receptionist. After all, receptionists are just as busy as any other employee in the workplace. They have to tend to customers, take calls, send messages, and work with other employees to keep an office productive. Multi-line phones make the job easier for receptionists. They can easily transfer employees to clients as needed with these materials.  
Accent Chairs 
You might have to keep customers or business representatives waiting in the receptionist area of your office, so you have to consider their comfort. This is also where you can get creative with aesthetic appeal and comfort for your clients. Fixed-leg accent chairs are often the best choice for these rooms, considering you don't have clients sitting in this area for too long. These chairs are also known for complimenting the office, so by incorporating a couple of these pieces, you can successfully complete your reception area. 
Sofas 
As long as you have some kind of seating for your clients, your reception area should be good! If you would want something cozier, love seats and two-seater sofas are also great choices for the reception area! Sometimes, you have clients coming in parties of two or three, so these pieces of seating furniture could work out just as well as individual chairs! You could even look into purchasing a sofa and some accent chairs to add more character to the room.
Mini Tables 
Of course, adding accent tables next to these accent chairs and sofas is recommended. You want your reception area to be as considerate as possible for anyone coming into the office, employees, and customers, so even something as small as an accent or mini table can make a huge difference. Clients or professionals may be coming in with plenty on their hands (literally), so having somewhere to place their personal items would definitely come in handy. 
Cozy Furniture for Entertainment 
You should always include some kind of entertainment in your reception area, especially if your workplace typically has clients waiting. This is where you can bring in office tables or cozy chairs that have armrests. Most offices with reception areas have magazines for light reading. You obviously need a place to store these materials, which is where a nice centerpiece, coffee table, or a magazine rack can come in handy. 
Lighting 
Lastly, lighting is crucial. This illumination plays a major role in manifesting employee productivity and increased visitor satisfaction, so it is important that you never overlook the lighting in your reception area! This may not be something you have to worry about too much if your reception area has plenty of natural light, but you will need some accent lighting if it is blocked off during the daytime. Some great pieces of furniture for this area include freestanding lamps and table lamps.
Complete Your Receptionist Area with Essentials from Our Store! 
Indoff Commercial Interiors provides furniture for offices alike. Whether you are opening up an office or redesigning, we can provide all the same! Give us a call so we can help you furnish your office! We guarantee you can find exactly what you're looking for here with us.