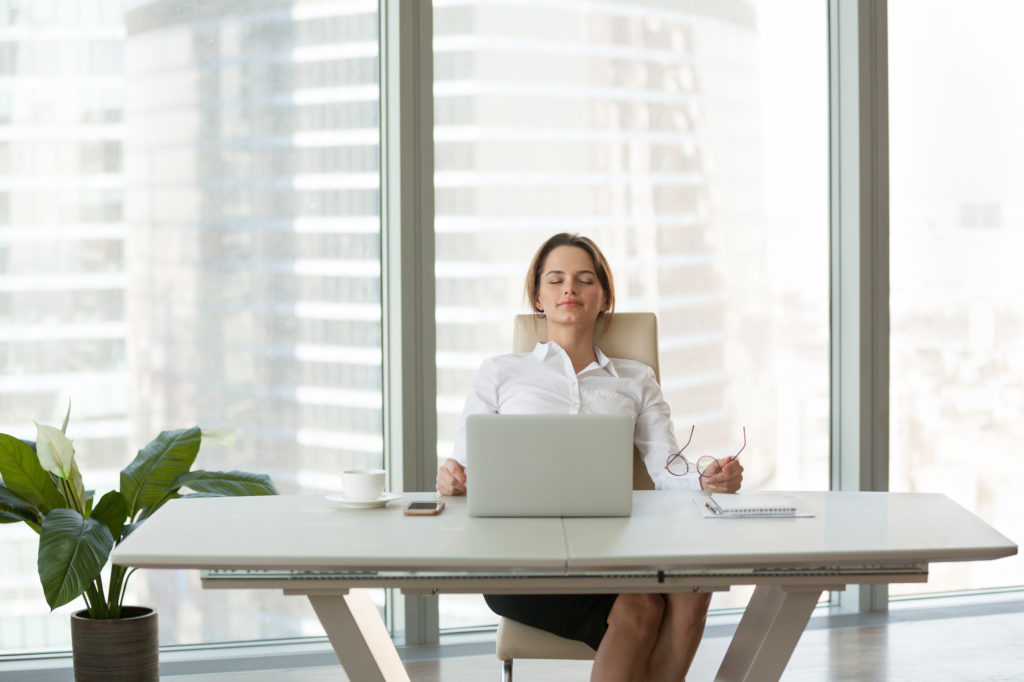 Golfers use different clubs on the fairway and the green. Runners don't wear leather wingtips and heels during marathons. Their equipment suits their jobs and bodies to avoid injury and maximize performance. Why should office furniture be any different? Like a modern gym, outfit your office with ergonomic furniture so your team can be productive and healthy.
Ergonomic furniture isn't just a fad with trendy companies replacing desks and chairs with standing desks and exercise balls. It's an industry that designs business furniture with the human body in mind. Let's explore the best, most diverse pieces of ergonomic office furniture and how they create more welcoming workstations.
Ergonomic Chairs and Accessories
Ergonomic furniture starts with good chairs. In a study from the National Center for Biotechnology Information, 219 out of 397 office workers reported lower-back pain over a month-long period. That kind of pain plummets productivity. By investing in adjustable, comfortable chairs, your office won't dread sitting down for a long day.
High-Back Chairs
A padded high-back chair offers both cervical and lumbar support. The headrest keeps your neck straight while the memory foam back cradles your lower back. Combine that with large armrests for maximum posture support.
Mid-Back Chairs
Not everyone likes a large office chair. Mid-back adjustable chairs offer flexibility for office workers that fulfill diverse rolls. Contoured mesh backs provide lower- to mid-back support while adjustable arms keep your hands at a comfortable level in relation to your desk. They make great computer chairs and multi-purpose office chairs.
Standing Chairs
Standing chairs are increasingly popular ergonomic furniture choices. They allow users to sit with their legs stretched out, engaging the muscles and burning calories at their desks. They're not for everyone, but people who use standing chairs often don't go back to using normal office chairs.
Footrests
What's the best accessory for a comfortable chair? A great footrest. Not just for lounging in front of the TV, a footrest under the desk encourages circulation and prevents cramps and tingly nerves.
Seat Cushions and Neck Pillows
If you change workstations throughout the day, consider investing in some cushions. Gel and memory foam cushions support your back, while cervical pillows keep your neck from suffering from office fatigue.
Ergonomic Desks and Accessories
With a new chair picked out, the next step is finding the perfect desk. With the proper measurements, many desks make your employees more comfortable, so here's a handy desk measurement calculator to help! When choosing a desk, take arm length, height, and preferred monitor-viewing angle into account.
Desks with retractable keyboard shelves
This kind of desk allows keyboards to be at optimum lap height. With a retractable shelf, your keyboard can rest at the perfect angle for your arm length. Ergonomic desks with retractable shelves also allow for better cable management.
Adjustable desks
To facilitate most office roles, adjustable desks allow you to change the height and angle of your desk. This is especially useful for architecture, design and other roles that require putting hand to paper. Many adjustable desks feature large tops perfect for laying out a lot of visual information.
Standing desks
After a lunch break, using a standing desk allows improved digestion and blood-sugar control. Like standing chairs, they also allow for improved muscle engagement, circulation and burn calories all while staying at your desk. Many are adjustable and can be used as sitting desks, as well.
Monitor stands
Being too tall for the monitor at your desk can strain your neck. With a monitor stand, you can elevate your monitor to be in line with your eyes. Many allow you to adjust your monitor's angle. Tired of losing pens and sticky notes on your desk? Many monitor stands feature storage shelves that keep your most-used items nearby.
Ergonomic Mats
Tile and even plush carpeting can be hard on the legs and feet. For standing desks or tall, customer-facing desks, an ergonomic mat relieves pressure on your joints, arches and calves. With a mat, you can prevent high-traffic areas around your office (like in front of printers and other communal technology) from wearing down.
Ergonomic Computer Accessories
Using uncomfortable keyboards and computer mice can worsen or cause arthritis and carpal tunnel syndrome. These chronic illnesses make even easy days tough, not just physically, but mentally. A study published by the Mayo Clinic found that up to 50% of people with chronic pain suffer from anxiety disorders and depression. These may be relatively small pieces of ergonomic furniture, but they keep everyone happy.
Ergonomic Keyboards
Ergonomic keyboards are modern marvels. Some are built like waves, letting your hands rest on comfortable, rounded edges. Many split the keyboard in two, letting employees space them out for tactile comfort.
Ergonomic Mice and Mousepads
Like keyboards, ergonomic mice forgo standard boxy designs for hand-shaped edges. Instead of gripping a mouse like a brick for hours on end, your fingers will fall naturally over it. Pair it with a padded mouse pad to support your wrist.
Computer stands
Especially popular with the tech industry, a tall computer stand behind your desk allows easy access to your hardware. Many have shelves for computer towers and monitor stands. If your desk is frequently cluttered, a computer stand opens up valuable desk real estate.
Ergonomic Office Furniture From Indoff Commercial Interiors
At Indoff, we want to help make your office as healthy and productive as possible. Don't sacrifice comfort for functionality. With our selection of ergonomic furniture, you'll find a happy medium between utility and luxury. Contact us today for all of your ergonomic office and home office furniture needs in El Paso.