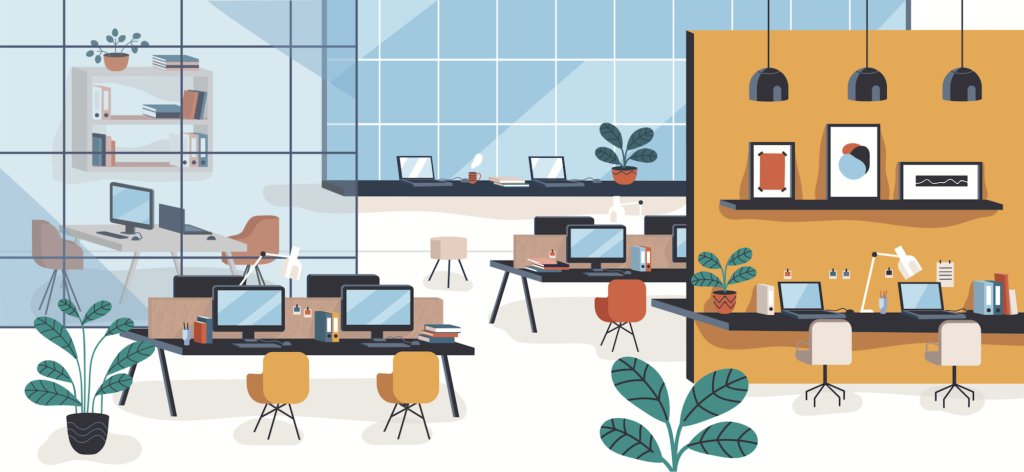 There's so much we do to set up the perfect workspace. From the right kind of coffee to kick-start your day, to finding that perfect chair for posture. But have you ever thought about the color scheme you're surrounded by? Studies have shown that your office paint job can affect you more than you realize. A study done by Color Psychologist Angela Wright proves to show how color can change your mindset. It's time to reanalyze your efficiency and optimize your productivity. If you're working from home or heading back to the office soon, here's how changing the color of your workspace can change how you work.
Color = Productivity
Before you jump up and pick your favorite color for your workplace (let's not break out the neon scheme just yet), you should know what individual colors mean. Think about it from an artist's perspective. They pick certain colors to bring out specific moods and emotions in their work. If they're creating a calming spring meadow, they're not going to use Hi-Fi reds and oranges. They'll aim for blues, greens, even some yellows to relax your mind. Let's look at some of the primary colors and their effects on the mind.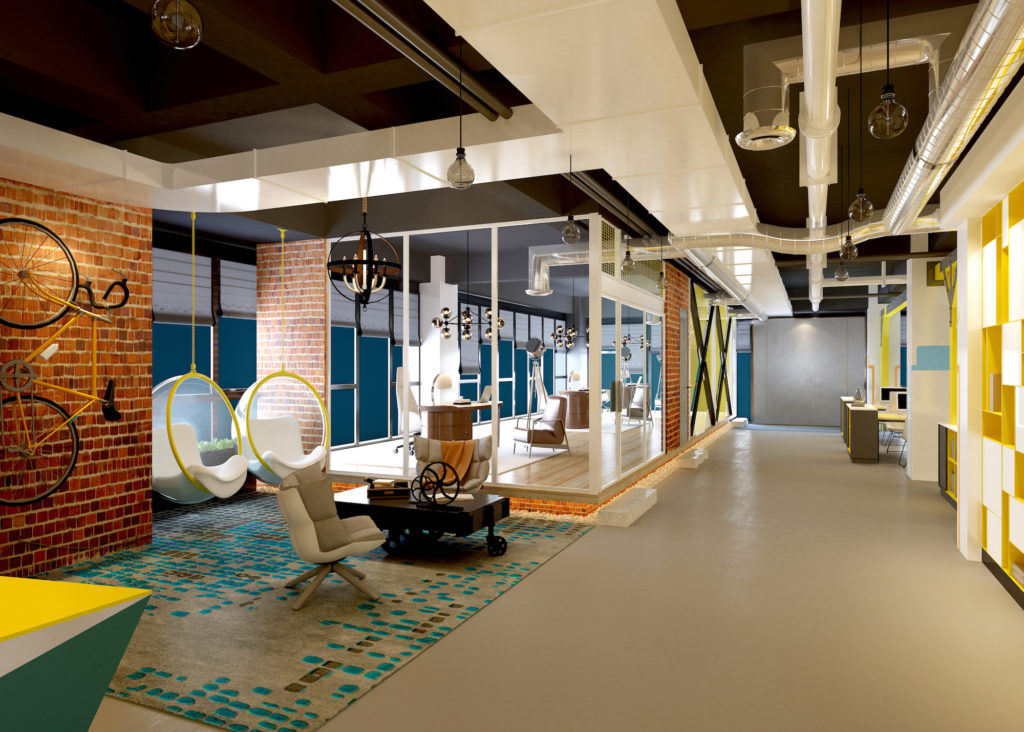 Red: Stimulating And Attention Grabbing
Although stimulating, the color red has its pros and cons for the work environment. Think of a stop sign – it catches our attention immediately. It's also probably what your teacher used when marking up that paper you spent all night working on. Mostly, it's a call for attention in the details. It raises our blood pressure and can activate our "fight or flight" instinct. Although the color red isn't recommended for a relaxing workplace, it's productive when drawing one's attention to a key item. It also has two ways on the spectrum it can land on – pink and burgundy. Pink has a light-hearted feel, whereas burgundy takes a sophisticated and serious tone. The verdict? Use it sparingly or just to highlight something important in the office.  
Blue: Productivity and Calming
Quite the opposite of red, and known for its calming ability, blue has the most significant productivity boost in the office. If you use blue as the base color for office productivity, you can use other colors as accents since so much goes well with the color. It has the opposite effect from red as it lowers the blood pressure. Creating a calming feeling, it aids the mind for concentration at its fullest. 
Green: Relaxing and Peaceful
Hitting that 40-hour workweek can be exhausting no matter what you do. Luckily, green has a significant effect on calming people down. It's key to relaxation, mainly because green doesn't strain the eyes. It's no wonder offices have open windows with plenty of nature surrounding them. You can even place plants around the office to help create this effect as well. It's perfect for keeping your mind at peace for those overwhelming projects and deadlines.
Yellow: Collaboration and Optimism 
As much as we love being relaxed and cozy, too much can put us to sleep. A touch of yellow can bring in some energy and positive emotions into the office space. If you want to highlight collaboration, yellow can help to bring out an uplifting and vibrant mood. It's also known for stimulating creativity and optimism. Although, too much can be an oversaturation. It's known as the least favorite color for most adults, so use it sparingly and in key spots.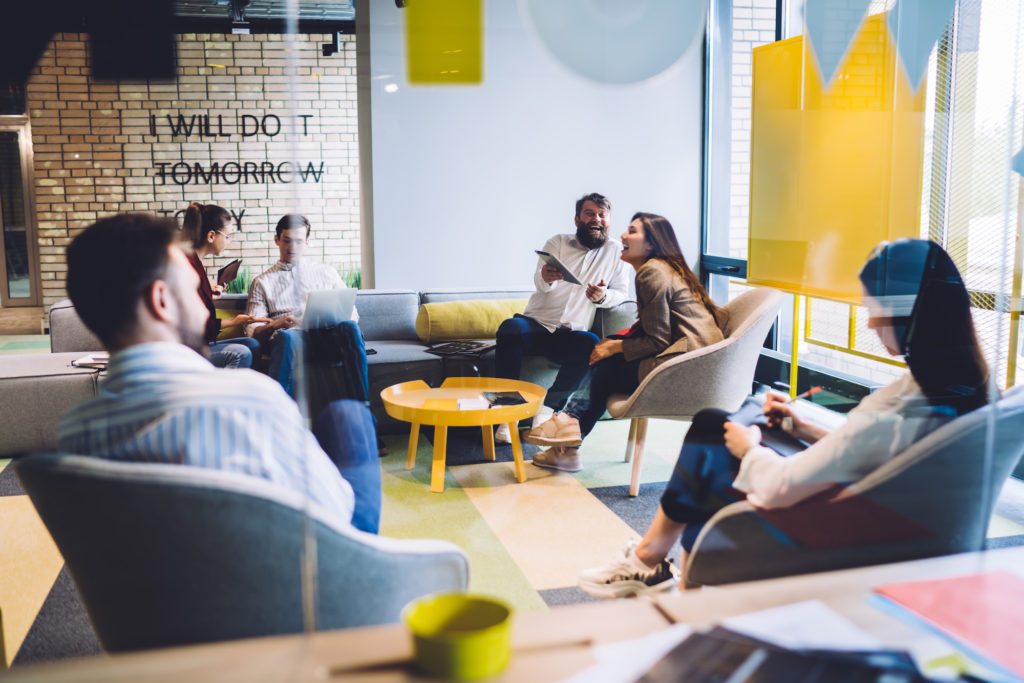 Working From Home
 So, you've set-up your at-home office, probably in a room that wasn't used much before. Or maybe, you're in the center of everything in your living room. You probably went from spending your early mornings and evenings at home, but now you're there all day. Take a step back and see what color fits both your living and home working situation. You'll find it makes a more significant influence than you realize.   
Back To The Office 
As a business owner, most of your staff might be working from home right now, and that's okay. It has its pros with everyone out of the building. Now is the perfect time to renovate the office space a little. This doesn't mean you need to break out the paint buckets either, you can do all of this with furniture as well. Not everyone has the luxury of owning a building or the budget to paint every wall and room in the office. By simply updating the furniture, you can make the entire room come to life.
Also, remember that each color's tone and brightness take a big part of what you're choosing. You don't want to oversaturate your office or pick the wrong color for the wrong room. Our leader, Kim Gregory, can help you decide what message and vibe you're sending not only to your clients but to your people.
More Than Just A Color 
A key thing to remember is the intensity and saturation of each color. Selecting colors in key spots means more than a whole room one color. The CEO having a blue highlighted door can mean trustworthiness and dependability. Green plants bring in freshness and nature into the office, and so on. So, before picking that basic beige or white walls, think about how you can truly optimize productivity with your color schemes.