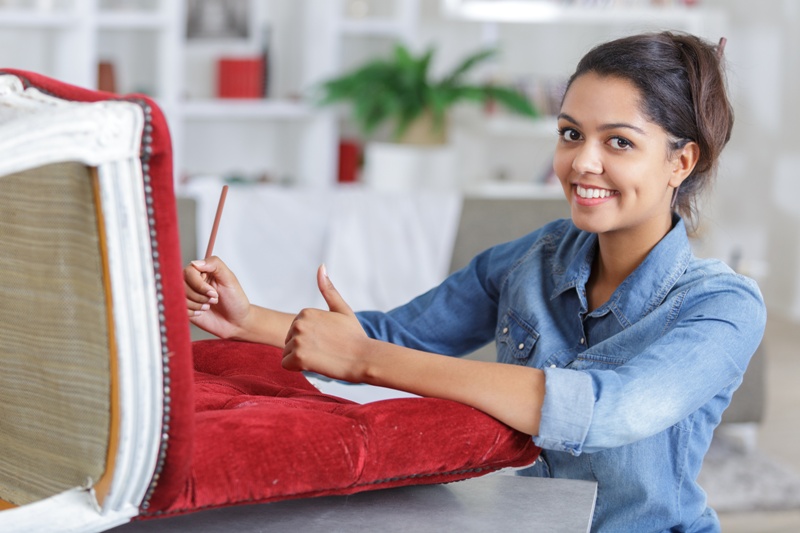 Throwing out old furniture is easy but so is sending it to be reupholstered. Unfortunately, many offices aren't aware of this option. That's why we're here to advocate on this easily attainable option. 
Reupholstering office furniture isn't just for broken pieces either. That is also a common misconception. The reality is all types and conditions can be repurposed. Let's say your office is going through a makeover and the color of your conference room table doesn't look great against the new paint on the walls. Our team can paint it a different color. 
The idea behind reupholstering to give great materials a second life. When a piece of furniture has a solid foundation — it's built well and of high-quality material — there's no reason to discard it. As a business, you will be at an advantage when you choose to have your furniture reupholstered. 
Here's how your team will benefit: 
1. Cost and Good ROI
Ultimately, you want to save money on office furniture. We completely understand! To put the cost of reupholstering vs. buying new furniture into perspective consider this: a large sofa can cost upwards of $1,500 while having it reupholstered generally costs roughly $400. Of course, these numbers will depend on the quality of the materials but on average you're looking at half the cost when you choose to reupholster.
Moreover, reupholstering a well-made chair or bookshelf is a great return on investment. The piece will return to working condition, maybe even better than before, and it will last you another seven to fifteen years. When you have a piece that needs a minor repair, it's absolutely worth having it repaired.       
2. Implementing a 'Fix It' Mentality
Reupholstering at its core is about having a fix-it mentality. As opposed to discarding something because it has a crack or minor dent, you see fix it as an opportunity to give it new life. By demonstrating to your team that things are worth fixing, they too will begin to see the value in not just material possessions but intangible things as well.  
3. Improving the Environment
Whether this is your primary reason for repurposing furniture or you didn't initially realize the value, by giving your furniture a second life, you will be doing a service to the environment. You will help reduce waste one office furniture piece at a time. Even if you're not able to fully salvage the piece, there are materials on your furniture that can be turned into something else. When you bring us your old or broken furniture, we'll give it a purpose!
Let Us Transform Your Office Furniture! Contact Indoff Commercial Interiors Today
Do you have a couple of items hanging around in the corner because they're broken? Or maybe you made the mistake of buying that green chair that looked blue in the catalog. Whatever the case may be, we're ready to give it new life. 
Contact Indoff Commercial Interiors in El Paso today!